How To Win In Court
Without A Lawyer
Tips for Success in the Courtroom
Make a good impression on the judge by following a few simple rules.
1. Meet Your Deadlines
Once you file the necessary papers to begin a lawsuit, you will face several deadlines—for everything from requesting a jury trial (as opposed to a court trial in front of a judge) to telling your opponent the witnesses you plan to call at trial. Most courts have local rules posted on the court's website. The rules will tell you everything you must do before the trial. Make careful note of these deadlines and make sure that you meet every one. The judge won't give you any leeway just because you are representing yourself—and missing a crucial deadline could result in you receiving a monetary sanction, not being able to present evidence or testimony, or your case being thrown out of court.
2. Choose a Judge or Jury Trial
Certain types of cases can be heard only by judges—such as small claims cases. In most instances, however, either party has the right to request a jury trial. An attorney will usually choose a jury for a sympathetic case and a judge for a case involving complicated law or disturbing facts. The thought is that a judge is in a better position to apply the law in an unbiased manner. Even so, most people representing themselves will have an easier time presenting a case in front of a judge than a jury—primarily because jury trials are more complicated because of the voir dire process used to select jurors. However, if your opponent requests a jury trial, you'll have to deal with a jury, whether you want one or not. If you want a jury, you must alert the court in advance and deposit jury fees. Consult the court's local rules for the deadline to do so and the fee amount.
3. Learn the Elements of Your Case
You won't win a lawsuit by simply striding into the courthouse and demanding money from your opponent. Each type of legal claim has several "elements" that you'll need to prove to win. It's an all or nothing proposition. If you fail to prove an element, you'll lose. For example, in a contract dispute, you must prove that a contract existed, that you held up your end of the bargain, that your opponent failed to meet his or her contractual obligations, and that you were harmed as a result. You'll want to plan carefully making sure that you can prove every element of your case—or, if you are defending yourself against a lawsuit, making sure that you can disprove at least one element of your opponent's case. One of the easiest ways to find the elements is by reviewing jury instructions. Jury instructions are simple statements of the law that the judge will read to the jury so the jury knows the elements that you must prove, too. Each state has a set of civil and criminal jury instructions. Look through the table of contents to find your cause of action.
4. Make Sure Your Evidence Is Admissible
Once you know the elements you'll have to prove to win your case, you can figure out what types of evidence will help you prove each key fact. However, not every kind of evidence can be presented in a courtroom. Complicated rules of evidence determine whether a particular document, statement, or item is admissible in court. Although you don't have to master every detail of these rules, you should do enough research to make sure that you'll be able to present the evidence you need to win.
5. Prepare a Trial Notebook
During your trial, you'll probably testify, question witnesses (both those who support you and those who support your opponent), and present arguments about why you should win the case. To keep track of the questions you want to ask, the points you want to make in your argument, and the facts you have to prove to win the case, put together a trial notebook. You can use a simple three-ring binder with tabs for each section.
6. Learn the Ropes
Lawyers spend years learning how to question witnesses, present evidence, and make arguments in court. Before you make your courtroom debut, you should learn the basic procedures and rules of the courtroom and how to prove your case. You might find some information in the court's local rules, but the information will likely be limited to pretrial evidentiary disclosure. You'll have to look elsewhere for help on presenting your case. The self-help book Represent Yourself in Court, by Paul Bergman, and Sara Berman (Nolo) explains how to handle every step in a civil trial.
7. Watch Some Trials
Before your case comes up for trial, go down to the courthouse and sit in on a couple of trials involving similar issues. You'll see how to present your story and your evidence to the judge. This is especially helpful if you want to learn what to expect in a small claims trial. Because of the expedited process, you'll be able to watch several trials within an hour or so. Other trials can take days or weeks to see to completion, so you might want to sit in on portions of several trials throughout the day. When you know what to expect, you'll be much more relaxed about your trial.
8. Be Respectful
A little respect goes a long way in the courtroom, particularly when you are representing yourself. Address the judge as "your honor," not as "Judge Smith" or "Mr. Smith." Try your best to be polite to your opponent, not demeaning or petty. Showing respect for people and procedures in the courtroom will help you gain the respect of the judge, which will make your day in court a more pleasant experience.
9. Don't Interrupt
It can be tough to sit quietly while your opponent, your opponent's lawyer, or—worst of all—the judge makes light of your arguments or implies that you aren't telling the truth. But no matter how frustrated you get, you shouldn't interrupt—especially not the judge. You'll get a chance to tell your side of the story. Remember, calm people are more believable, so it benefits you to keep your cool.
10. Assert Yourself
If you find yourself up against a lawyer who won't stop rattling off legal citations or won't let you get a word in edgewise, you'll have to stand up for yourself. Tell the judge that you are representing yourself without a lawyer because you can't afford or justify the expense and that you'll rely on the judge to apply the correct law and reach the right conclusions. Many judges will make an effort to keep the proceedings comprehensible to a self-represented party—and will take steps to rein in an opposing lawyer who tries to take unfair advantage.
6 Body Language Tips for Winning in Court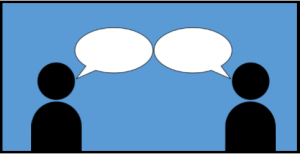 We all know body language sometimes speaks louder than words.
A smile of reassurance can attract new clients. A look of disinterest can drive them away.
Nowhere is nonverbal communication more important than in the courtroom. A trial is a form of theater, with you as lawyer playing a starring role. When you are speaking – and even when you aren't – eyes are on you, taking note of your facial expressions, posture and hand gestures for clues on how you feel about the events unfolding around you.
6 Tips From a Pro
Allison Leotta is a former federal prosecutor and the author of five novels, including , which was cited in , the Oprah Magazine as one of last year's best summer books.
She says her 12 years of trial experience taught her the importance of demeanor.
"But law schools don't have classes in body language, and a surprising number of trial lawyers never learn this lesson," she says in this ABA Journal story.
Here are some of her tips:
Stay in character, even when you don't have a speaking role. "Your audience – the jury – is watching you from the moment they walk in, long before you say anything. Their only entertainment is watching you. They can't check their phones, talk to one another or even lift their rears from their assigned seats. They'll notice everything you do and draw conclusions about who you are."
Look in the mirror to study your neutral, resting expression. "Is it really neutral? Or does it look like you just argued with your spouse? The key to good courtroom demeanor for men and women is to appear trustworthy. If jurors think you're unpleasant, they're less likely to trust you."
Try to maintain a subtle, composed smile at all times. "Practice in the mirror. You don't want to look like a crazy person. But you might discover that a subtle, practiced smile looks friendlier and exudes more confidence than your natural expression does at rest. There's truth to that 1980s deodorant slogan, 'Never let them see you sweat.' Your star witness buckles under cross-examination? Smile your subtle, practiced smile. Unexpected testimony shocks you? Subtle smile. If you frown or rock backward in surprise, a juror might conclude that you think your case has been undermined. If you keep your neutral, subtle smile, it instead says: 'Everything's going my way, just as I expected, all part of my master plan.'"
Kill them with kindness. "Benice to everyone in the courtroom. Kindness makes the world a better place, and it makes you a happier person. But if that's not enough to convince you, consider this: Kindness makes you more likely to win your case. When jurors think you're a good person, they'll give you the benefit of the doubt and ascribe good motives to what you say. If they think you're nasty or dishonest, they'll discount everything that comes out of your mouth.
There are many reasons to be kind to your paralegal, but a bonus is that the jury will notice. Be nice to the stenographer (who also has the power to make things go your way, or not, in the transcript). And, especially, have a positive relationship with the courtroom clerk. The clerk checks in the jurors every morning, brings them pencils and leads them to the jury room. This person inevitably forms a stronger bond with them than anyone else in the courthouse. If the jurors see that you're the clerk's friend, you're the jurors' friend by association. If the clerk hates you, the jurors probably will, too."
     5. Be like Clint Eastwood. "Look out for the jurors in the box. If Juror No. 3 is having a coughing fit, suggest a break or ask the judge if the juror can have a cup of water. Bless sneezes. An attorney who represents the National Enquirer told me about a trial in which the tabloid was sued by Clint Eastwood. During the actor's testimony, an elderly juror sneezed. Eastwood stopped in the middle of his sentence and turned to the juror, meeting her rheumy brown eyes with his piercing blue ones. 'God bless you, ma'am,' he said. As she melted, the attorney for the magazine knew he'd lost the case."
    6. Work on your tone of voice. "I struggled for years to find mine. I was torn at different points between seeming too young, too academic or too strident (another female pitfall). You want to come across as smart but not smarmy, warm but not cloying, passionate but calm. It's a difficult balancing act for anyone, but it's especially tough for young lawyers and female litigators.
Eventually, I found my sweet spot, talking to jurors as I would to my mother-in-law: a smart, empathetic woman I loved and admired and who brought out the best side of me. Think about someone in your life such as this. Stephen King writes his books toward an imagined 'ideal reader.' Make your closing argument toward an 'ideal juror' who you respect and like and who brings out the best in you. If you're not sure you're hitting the right tone, try to practice your opening on your own mother-in-law. The advice you get from a nonlawyer can be eye-opening."
Your body language can hurt your case or help it. The key is being aware of the message you're sending.
What tips would you add to this list?
Source: ABA Journal http://www.abajournal.com/magazine/article/motion_applied_body_language_trial/?utm_source=internal&utm_medium=navigation&utm_campaign=most_read
Part1
Winning Early in the Case
Part2
Winning Before Trial
Case-Winning Tactics
I've been studying law for 33 years, using the same case-winning tactics you'll learn here in just 24 hours.
No more guesswork!
Quick and easy!
No lawyer?
No problem!
Outwit tricky lawyers!
Control biased judges!
My 33 years of case-winning experience will be yours.
The only self-help law course created by an experienced attorney so everyone can know what other lawyers hide.
Good people should never lose!
Justice is your God-given right!
Lawyers play dirty tricks. That's why there are so many "lawyer jokes". My course shows how to use the official rules to win no matter how crooked your opponents are! The dirtier they play, the easier they are to defeat. It took me years to learn this. You'll know how in just 24 hours!
Complete course costs less than 1 hour with a lawyer.
Quick & Easy – Step-by-Step – With Sample Forms!
If you're paying a lawyer, get what you're paying for!
If you can't afford a lawyer, use my course to win!
Click the link above for explanation of legal terms. 
Try it now! It's FREE!
Everything at left is included for free: 5-hours of video clips, 3-hours of audio you can download, in-depth law classes with quizzes to build your confidence, sample forms with explanations, official legal references, charts, diagrams, online legal research tools, and much more!
Unlimited access for a year to do online legal research, use forms, study the classes, take the quizzes, memorize flowcharts, and master my case-winning tactics.
Go to court with confidence.
Legal forms, evidence tactics, case-winning procedures, and effective strategies explained in "everyday language".
24/7 access on computer, tablet, or smartphone!
So easy anyone can learn how in just 24 hours!
When you know how to control lawyers and judges using official rules of court and my case-winning tactics, you hold all the power you need to win in court!
Force your opponent to produce evidence or go to jail!
Force judges to sign orders!
Force lawyers to obey the rules!
Get the justice you deserve.
State or federal. Civil or criminal.
Case-winning tactics other lawyers hide!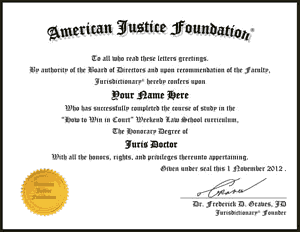 Protect yourself in court!
Win with confidence!
Pass the final exam to earn your honorary law degree.
Be prepared for court!
Works with Computers, Tablets, and Smartphones.
Students in every State in the U.S., every province in Canada, plus Australia, Great Britain, Greece, India, Ireland, Jamaica, New Zealand, Philippines, Russia, Spain, and the Virgin islands.
This is the Official Website of the #1 legal self-help course since 1997.
Accept No Substitutes! Your legal rights depend on it!