Welcome aboard!
What Is Copywriting?
Copywriting is the process of writing persuasive marketing and promotional materials that motivate people to take some form of action, such as make a purchase, click on a link, donate to a cause, or schedule a consultation.
These materials can include written promotions that are published in print or online. They can also include materials that are spoken, such as scripts used for videos or commercials.
The text in these materials is known as "copy," hence the name "copywriting."
You may not realize it, but copywriting is everywhere.
In fact, if you just start by looking in your mailbox, you'll find some obvious examples of copywriting. Promotions for local restaurants, catalogs, fundraising letters from charitable organizations, or sales letters for various products and services are all forms of copywriting.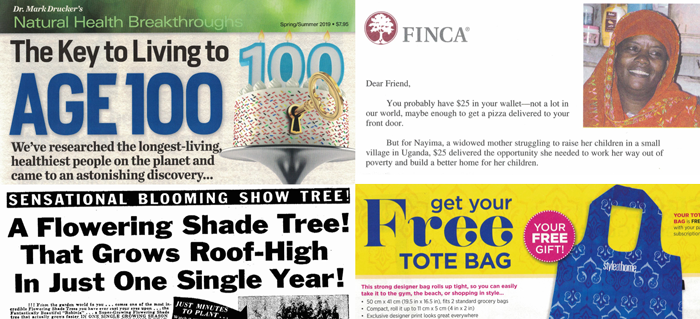 But the world of copywriting extends far beyond printed materials.
Much of what you read online is also copywriting, including most webpages, any free reports you sign up for, and even the emails you receive after signing up.
Take the example below from Stitch Fix, a website that specializes in helping people find a fashion style that's appropriate for them. The site also sells clothing for a range of different styles.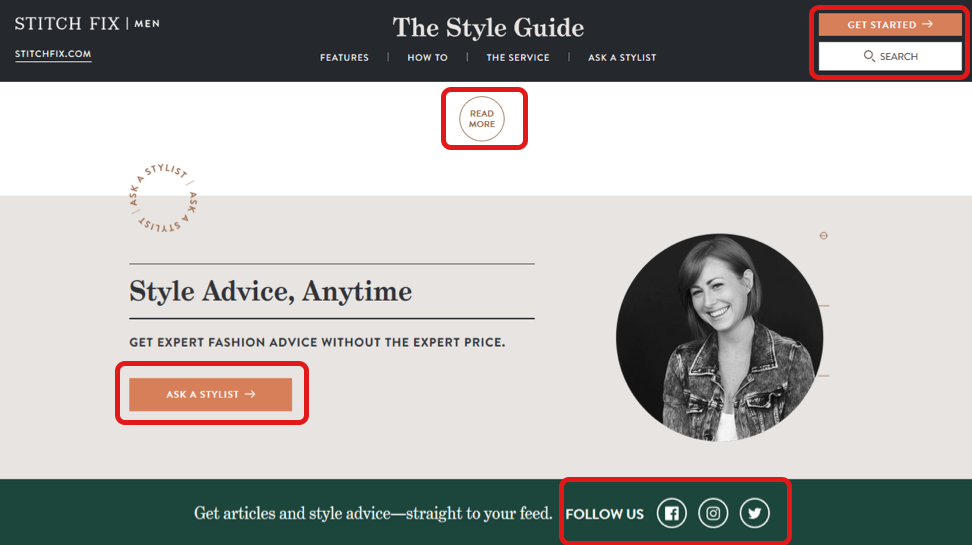 You can see the page has been written and designed to prompt you to take action in a variety of ways. You're asked to "Read More," "Get Started," or "Follow Us" on social media. You can also "Ask a Stylist" for fashion advice.
These are simple prompts we see on websites on a daily basis, and they're all forms of persuasive copywriting.
What you hear can also be copywriting in action.
Television commercials, product reviews on YouTube, and even short "how-to" videos on using a product are all examples of spoken copywriting.
We'll get into much more detail on the different types of copywriting in Chapter 2, but this gives you an idea of the many ways that copywriting touches all our lives.
(NOTE: Copywriting should not be confused with the word "copyright." Copyright refers to the exclusive legal right to reproduce or sell someone's work, such as books, music, or artistic items. The purpose of a copyright is to protect that original material and prevent its illegal use. Copyright is designated with the symbol ©.)
What Is a Copywriter?
A copywriter is a professional writer responsible for writing the text, or copy, used in marketing and promotional materials.
You may have heard various myths about writers, like the suggestion that writers are born with talent, and that you can't "learn" how to write.
Or perhaps you've heard the opposite, that there's no skill involved in writing and anyone can do it.
When it comes to copywriting, both of these myths are untrue.
Copywriters are professionals who have learned and practiced their craft. None of us were born knowing how to write excellent copy, but it's definitely a skill that nearly anyone can learn with a bit of persistence.
Perhaps due to the myths about writers, copywriting has remained a somewhat exclusive profession that not many people go into.
But this actually works to your advantage as a copywriter because it means that well-trained copywriters are hard to find.
Spoiler alert: you don't need a train of letters behind your name to become a high-paid copywriter!
You can be up and running quickly and with very little investment.
Pamela Sue Smales-Ellison
August 21, 1952-2017
Get On Jerry's Mailing List
Forbidden Fruit They Don't Want You To Know About
Jerry Smales on the campaign trail with Governor Jim Justice.
Get Self Help With Hypnosis (Paid And Free Hypnosis Programs)
Click any of the links below or search for particular programs for immediate help with ending the pain that keeps you up at night.